100 m2 / 4 people / 2 bedrooms / jacuzzi
Check-In 4.30 P.M. – Check-Out 11 A.M.
You will be welcomed by Sylvain and Isabelle (the owners)
Optional services : change of bed linen, end-of-stay housekeeping.
Jacuzzi – BBQ – Outdoor shower
2 air-conditioned bedrooms
2 Queen-size beds 160×200
Washing machine – Bed linens & towels
Italian shower
Microwave, oven, freezer, fridge, dishwasher, expresso machine, electric coffee maker, etc.
Internet access – TV – Hifi system
Accessible to people with reduced mobility
Baby equipment (high chair, cot, etc.) upon request.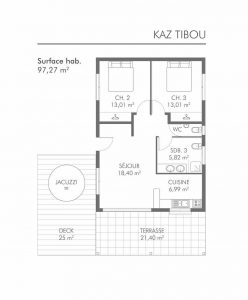 Would you prefer a swimming pool or another furniture ? Visit the villa Kaz Ti punch ! Would you like a more spacious villa ? Visit rather the villa Kolé Séré or the villa Ciel de kaz !
Weekly rate for 4 people max. :
06/01/20 => 06/02/20 : 849 €
07/02/20 => 08/03/20 : 999 €
09/03/20 => 30/08/20 : 849 €
31/08/20 => 15/10/20 : 799 €
16/10/20 => 02/11/20 : 849 €
03/11/20 => 30/11/20 : 799 €
01/12/20 => 18/12/20 : 849 €
19/12/20 => 03/01/21 : 999 €
04/01/21 => 05/02/21 : 849 €
06/02/21 => 07/03/21 : 999 €
08/03/21 => 30/08/21 : 849 €
31/08/21 => 17/12/21 : 799 €
All charges included (water, elec., AC, @)
Payment by bank card, bank transfer or cheque
25% on reservation (deposit)
75% one month before arrival
Security deposit on arrival 1000€ (cheque or cash)
Optional : Final housekeeping 100€
Optional : Baby equipment 25€
Optional : Change of bed linen 40€
Complete price list (all villas)
Nearby sites : Roseau Beach – Chutes du Carbet (impressive waterfalls) – Guadeloupe National Park – Saut de la Lézarde (little waterfall in the tropical forest) – Parc des Mamelles (zoo of Guadeloupe).
Access and shops : Island's main road (RN1) at 3mn Airport at 20mn Carrefour Market, Super U, bakery, etc. at 10mn Farmers' market at 3mn
Mme Alexandra Riley – 26/1/20 – It's my 3rd time staying here – I wouldn't stay anywhere else when in guadeloupe! The villa is so nice and relaxing and has everything you need – kitchen, wifiwasher/dryer, jacuzzi and nice outdoor space to just relax. Looking forward to staying for my 4th time next year.
M. Claude – 7/1/20 – Petite maison très sympathique, nous avons reçu un excellent accueil des propriétaires qui sont des gens très à l'écoute, nous avons apprécier le calme de l'endroit, la sécurité des lieux, la maison était à proximité de tout, nous avons passé un très bon séjour de 3 semaines, et n'hésiterons pas à revenir ! Merci encore Isabelle et Sylvain.
Timi and Laszlo – 6/8/18 – The apartment super clean and well equipped. Isabelle is a wonderful host. She was waiting for us with some home-made pie and cookies. She showed everything in the apartment and gave some tips about what see on the island. Definetly come back if we will be on the island again.
Marie-Pierre – 11/3/18 – Gite très bien sous tous rapports, au calme, compagnie des petits oiseaux, bien situé pour se rendre sur basse terre et haute terre…. à recommander sans modération.
Mme Cécile et Laurent – 25/2/18 – Excellente prestation. Nous avons énormément apprécié l'accueil extrêmement chaleureux d'isabelle et sylvain, à la fois généreux , aimant partager tout en restant discrets . Des personnes très humbles . Un grand merci . Au plaisir de revenir dans votre splendide villa , très bien placée pour se déplacer sur l'ile avec un un excellent rapport qualité / prix.
Mme Reyana – 02/02/2018 – What a wonderful, comfortable place to stay. The hosts were so welcoming and prompt. The space was just as pictured, even better than pictured. Parking was easy, finding the location was easy. It was close to the freeway. The amenities were amazing. We had a jacuzzi and it was so pleasant.The garden was so gorgeous. Don't stay anywhere else!!!
Mme Catherine C. – 1/1/18 – Parfait! Excellent accueil et maison tout confort! Nous avons passé une excellente semaine de vacances dans cette maison parfaitement équipée: surf, jeux, livres, dvd, machine à expression, presse-agrumes, friteuse, etc. Bref, vous avez tout et en parfait état! Nous avons particulièrement aimé être au centre de la Guadeloupe et ainsi pouvoir rayonner dans toute l?ile. L?emplacement est idéal pour découvrir la Guadeloupe
M. Douglas G. – 6/3/17 – Very much worth the trip! We spent a week at Kaz Tibou in mid-February 2017, and as found the villa to be even better than it seemed on this site. The other glowing reviews are accurate – it is very well appointed, stylish, close to amenities, hikes and sightseeing in the Guadeloupe National Park (go north on the N1, then west on D23), and the beaches aren't that far of a drive away (we enjoyed the two main ones at Deshaies the most). The villa has pretty much all the creature comforts you might want – a very well set-up modern kitchen, two air conditioned bedrooms, a walk-out terrace that holds the dinner table, lounge chairs, jacuzzi and shower, and leads out to a gorgeous tropical yard. The living room is very nice, with couch, TV, stereo (though the weather was excellent, so we didn't use it much). The location, in the low hills on the outskirts of Petit Bourg, is pretty central, and most of Basse-Terre and a fair amount of Grande-Terre are reasonably close. Isabelle and Sylvain are excellent hosts – very welcoming, full of information, available to answer questions, and with ideas about things to do. We arrived late afternoon on a Sunday, and they helped us out with a very nice dinner and dessert. They have a small binder with a lot of information about the villa and the island, and this was really well done. It helps a lot if you can read and speak French, but Isabelle and Sylvain are very welcoming (the binder is in French and English), and there is a general friendliness and openness on the island. We saw people who spoke very little French managing their way around just fine, and they treated in a welcoming manner at a number of spots on the island. Isabelle and Sylvain, thank you very much for everything, and especially for the recipe for the coconut flan! Doug and Deb
M. Yoann, Marjorie et Charlotte – 14/2/17 – Nous venons de passer 9 nuits dans la Kaz Tibou et la seule à dire est que c'était parfait !! Accueil souriant, présents juste comme il faut, prestations de très grande qualité, situation géographique parfaite pour visiter Basse-Terre, maison au calme… Nous sommes ravis de notre séjour et ne manquerons pas de revenir !! Encore merci à vous deux pour tout, ne changez rien !!
Mme Sabine de Reynal – 13/1/17 – Nous avons passé un très bon séjour. Ce gite est très bien équipé et très bien placé pour découvrir la Guadeloupe. Nous avons apprécié le calme et la sérénité des lieux et la qualité des équipements. Les propriétaires sont charmants, très accueillants et à l'écoute de leurs hôtes. Nous recommandons la Kaz ti bou qui vaut ses cinq étoiles.
Mme Ghislaine B. – Kaz Tibou – 30/11/16 – Villa élégante, confortable et moderne – plain pied très appréciable. Endroit très tranquille sur les hauteurs de Petit Bourg. Bonne situation géographique pour rayonner aussi bien sur la Basse-Terre que sur la Grande-Terre. Merci encore à Isabelle et Sylvain pour leur accueil chaleureux et attentionné.